We're often taught to obey authority figures such as physicians- but what if you feel they're keeping you from realizing your full health potential. Physicians make mistakes too! As soon as we understand that, especially in such a precarious time like this, we can let the real healing begin. I talked to Dr. Carolyn Messere today about her experience, the virus, mask use, and cognitive dissonance when it comes to new protocols.
Listen To The Podcast Here
Or listen and subscribe for free on your favorite app: Apple Podcasts | Spotify | Stitcher | RadioPublic | TuneIn | Android
Today we're talking about how we can get attached to absolutism of advice, especially from those in positions of power, and cultivating courage to break free from this. We also dive into ten bars in our self-inflicted prison if we keep a closed mind. 
We also discuss everything from the virus, masks, and case studies. Many people are making erroneous claims, especially in times like these, and its important to take a step back and examine the facts.
What are your thoughts about wearing PPE? Leave a comment!
In This Episode
The ten bars in our self-inflicted prison if we keep a closed mind

The transition from traditional medical training to homeopathy

Mask wearing: making your own judgement calls

The downfalls of 'research' and the truth about published studies

Looking through the virus through a different lens, and examining the cognitive dissonance behind it
Dr. Carolyn Messere
Dr. Carolyn wrote a post that was so eye-opening and insightful, it prompted me to record this podcast with her. Check this out:
Science. Hmmm. I understand, in our fear, that we wish to have something to lean into or at least lean against. And right now, science looks like it should be that thing for many of us.

First, let me give you my credentials, so you can understand that I have the creds to address this. I'm an MD. Double board-certified in general and colon and rectal surgery. A medical writer. I've been a faculty member at 4 medical schools, including Harvard Medical School. I was an editorial assistant for some of the most respected scientific journals in the world, including Biochemistry, Proceedings of the National Academy of Sciences, Cell, The Journal of Biochemistry. I spent 6 years working in a department that included an MD/PhD who wrote over 500 peer-reviewed papers, as well as the director of medical education at Harvard Medical School, and the director of the Internal Medicine clerkship at HMS. I had the opportunity to work with the director of the Karolinska Institute, the directors of the Nobel committee, and arguably the most interesting surgeon general ever, C. Everett Koop.

The truth is, all that time in that lab (over six years!!) turned me off to research. I saw first hand how political it is. How many studies get buried or tossed if the results don't turn out. How easy it is to design a study to get the results you're looking for. How who you know determines what gets seen and by whom.

Don't want vitamin C to show any real effect against a virus – use cheap vitamin C at low doses and long intervals.

Here is what I can tell you. I can poke holes in any science. I learned from the best, and it was my job to read through the studies and find the bias, the abstract thinking, the assumptions and extended conclusions, the already discredited studies they based their study on, etc.

Right now, this is science's 15 minutes of fame, and I assure you everyone wants in! Every scientist looking for their next position, tenure, named chair, PhD approval, grant, or cover of Time magazine is going to come out with something that might get them their spotlight. They are not looking at the clinical impact of their study – how it might actually affect YOU.

The study about the asymptomatic spread – already discredited. The study about how long the virus stays on surfaces – only works in the lab, not in real life. Another team tried to culture virus from surfaces and couldn't get any of it to grow once it was on a surface.

The mask thing – they've never been able to do a randomized control study with the flu, much less with coronavirus. There are plenty of laboratory studies, but not any clinical studies with enough power to prove anything – they're inconclusive.

I'm not even going to discuss six feet between people, gloves, shelter in place. No real science for these things. Lots of little lab studies, most of which are too small or too biased to really help us.

We literally do not know the answers to any of this. Just to design the studies we'd need to answer these questions might take years.

And in the heat of the moment, the most important thing to look at is how do we get more than 12% of the people we put on a ventilator to get off the ventilator? Not whether wearing gloves in the grocery store increases your risk (probably makes no difference either way).

I'm not trying to tell you not to do what you think is right. If wearing a mask seems like it is helping yourself or others, wear a mask. If staying home seems like the safe thing to do, stay home. If it bothers you to see people at the beach, get off Facebook and stop reading the news. Oh, you might want to do that anyways. Because I'm pretty sure stress is bad for your immune system – but oh well, there isn't science for that either.

We might have to live with the fact that we're playing this as we go along. That the data might change from one week to the next. That there might be some hidden agendas going on that we won't find out about – maybe ever, but certainly not for a while.

Use your best judgment. Ask questions. Do what makes you feel the best. For me, I put my faith in something higher than science. Always have. Always will.
Mask-Wearing
Wearing a mask is not something any of us "want" to do, and many see it as an infringement on rights …or even oxygenation.  Yes, there's a lot of debate about masks and mandating. Having said that, it's extremely likely we will be required to wear a mask under some circumstances. 
I want my community to have the best masks they can for situations that require them, like… 
…shopping…
…going to a restaurant…
…getting in to watch a game or a movie…
Also, right or wrong, many of us have loved ones working in jobs that require masks.
So, I am grateful to share that I have secured 95% filtering, much more comfortable masks. (And… I got a great discount of up to 40% off for my community.)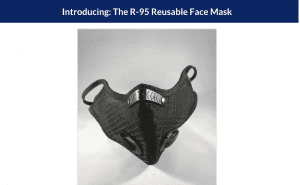 CLICK HERE for 20% off of your total order on Defender Shield Products use Coupon Code – Warrior20
(And they ship out of a Salt Lake City warehouse the day after you order them.)
Quotes
"Ten bars in our self-inflicted prison if we keep a closed mind: parents, peers, physicians, partners, positions, pop culture, press, politics, preachers, and pedagogy." [4:27]
"In uncertain times, people are looking for certainty." [27:58]
"I don't think it's fair to expect to read through these studies and figure out what's right and whats not." [30:45]
"We can't think of each other as enemies" [54:21]
Links
Follow Diane on Facebook | Instagram | Pinterest | Twitter | YouTube 
Join the Cleanse, Heal, Ignite Facebook Community
Check out Diane's 'Killer Breasts' Book – a Guide to Overcoming Breast Implant Illness
Watch our MasterClass & Get to the Root of Hormone, Auto-Immune and Breast Implant Illness Symptoms