Warriors, this is a powerful episode. 
We're going to talk about hormones, yeast infections, UTI's, testosterone for men and women, how to use bioidentical hormones, and whether or not birth control makes sense for you. We're even going to talk about how addressing these areas of your body is going to possibly save you a lot of money down the road.
Dr. Anna Cabeca is a is one of my personal and dearest friends. She is an internationally acclaimed menopause and sexual health expert. She's a global speaker and pioneering promoter of women's health and has several different mechanisms that she supports her patients with. In this episode, she's going to share different tips, without seeing an OB/GYN, to support hormone metabolism on the mucosa of all of your tissues. She will tell you how to reverse weight gain, energy drain, body pain, and broken brain.
Listen To The Podcast Here
The low-down on HORMONES: what are they, how do they influence our health, and how do they change as we age?

What hormone could be the reason that women are TWO TIMES as likely to get Alzheimer's?

The NUMBER ONE reason women get placed into nursing homes

Dryness, Incontinence, and all natural parts of aging that DO NOT need to equal suffering
Merry Christmas!
Warriors- it's Christmas morning here on the Cleanse Heal Ignite Podcast.
Well, not exactly, but I have TONS of discounted gifts just for you from Dr. Anna Cabeca that are sure to make your life a whole lot better, plus one FREE jar of Julva (Dr Anna's Anti Aging Cream for your Vagina and Vitality). Unwrap your other gifts before your siblings get to it: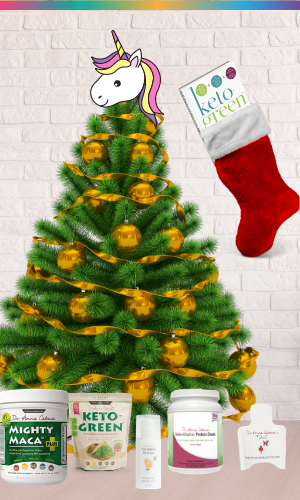 Keto Green 16 QuickStart Kit/Challenge
TO TALK TO me 1 ON 1 ABOUT BIRTH CONTROL or any lady logistics, such as how to increase your odds of fertility, preparing for a healthy baby, recovering your adrenals and beautiful temple from childbirth, hormone balancing, herpes or HPV, bacteria overgrowth, yeast infections, itchy/swollen 'Gardens', Urinary Tract Infections, and just about everything else discussed during this episode:
Quotes
"The transitions that women go through, either if it's monthly, or when we start our periods, to when we end our periods, it is natural. It's always natural and mandatory but suffering is not." [06:30]
"It's not only about the reproductive hormones, it's about the other major hormones as well. The three that I talk about are: cortisol, insulin, and oxytocin." [09:35]
"Clitoris to anus, that is our most valuable real estate in our body. That is important to take care of, we need to take care of our vulvar area, and clitoris to anus" [41:42]