THIS IS MY Fave morning go to.
As well as thousands of other woman warriors like you who wanted to take their life, health and MORNING back, by kick starting it the best way EVER.  If you have not yet read why a DRINKING COFFEE EVERY MORNING is likely one of the most toxic things a woman with hormonal imbalance can do, read THIS ARTICLE on why
For more recipes just like, and a TOTAL body, TOTAL life transformation, check out The Warrior Cleanse Recipe Book.  The RIGHT way to cleanse and the BEST way to truly change starting with Mindset.  Join me in my kitchen, where I'll show you how to make our Warrior Favorite Mocha as well as how to travel with it so you can start your day off right, loving on your hormones and metabolic engine!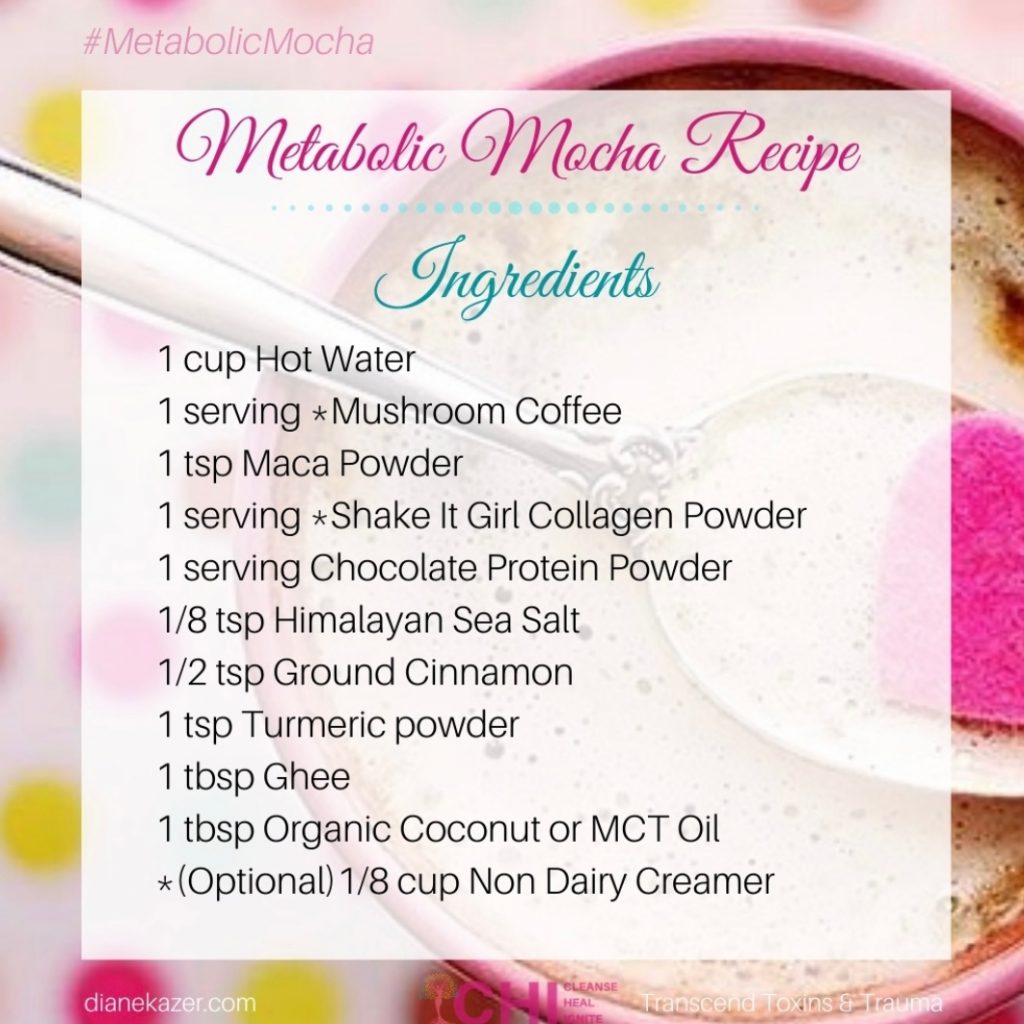 For this recipe, I like to up the ante with a few of my favorite metabolic adaptogenic energizing products I get from Whole Foods or THRIVE MARKET. Here are a few notes on why I chose each of the ingredients:
My FAV Superfoods Blend is Organifi Gold (or you can just use Cacao)
1 T MCT Oil 
I also add about 1 T of Ghee as well (makes it taste more like a brownie and fat is SUPER HEALTHY for us…adding this yields another 30-60 min of solid steady state energy!)
Use: 1 Packet Mushroom 'Coffee' . This link will take you to many types of single use Mushroom packets so you can chose caffeinated or non.
1 Serving CHI Collagen Powder
For all others – See the Metabolic Mocha Ingredients Category in my FullScript Supplement Store HERE  (check out the Bone Broth chocolate protein powder)
OPTIONAL toppings = 1-2 drops doTERRA Peppermint Essential Oil (if you desire a Chocolate Mint Flavor)
For the travelers, pre bag all the powder ingredients for as many days as you want to wake to this drink servings worth of in separate baggies so all you need to do is dump it into your blender cup.  You can do this when you're at home in the morning too to save time!  As you'll see in the video above, you can travel easy with it if you pack it right, it just takes some prep work and thoughtful consideration.  You will find that it will be WORTH IT, for all of the extra energy you have all day, trust me.
For example, I either travel with my NutriBullet or a Shaker Cup with my ingredients and 'just add water' (cold or hot) to make it simple.  When I travel to a place for a week or so, I ship the products where I am going so they are waiting for me there. Especially my folks house, because I return there and my MM ingredients are always waiting for me, so I am not without.  Again, standard grocery stores will not have all of these, so best to be prepared.
Serves: 1
Ingredients
1 cup hot water
2 tbsp raw cacao powder (or Organifi Gold serving)
1 tsp maca powder
1 Serving Protein Powder, preferably Collagen OR Chocolate Bone Broth Protein Powder (or 1/2 each preferably)
1/2 tsp turmeric powder
1 tbsp raw, organic coconut oil (ideally MCT Oil)
Nut Milk Creamer of Choice
Four Sigmatic Mushroom Coffee (or non Coffee)
1/2 tsp ground cinnamon
dash cayenne pepper
1/4 tsp Sea Salt
You might be wondering where to get all of these things.  It seems like a lot for ONE recipe right?  Surveys said from our Warrior Women that it's BEYOND WORTH it and that the Metabolic Mocha is a GAME CHANGER that has helped them ditch their Caffeine habit and feel multiple times better!
See the Metabolic Mocha Ingredients Category in my FullScript Supplement Store HERE
Buy things like Ghee, herbs & Superfoods on THRIVE Market Online. This is the EXACT System I use to make Life Easier in Finding & Ordering Products for the Metabolic Mocha (& Groceries in general) straight to your home OR wherever you are traveling to for 25% + off! 🙂
Instructions
EASY! Combine all the ingredients in a blender, I like using my NutriBullet for this because after about 30 seconds, it works up a nice frothy foam on top = YUM.  Pour into a mug with a rad saying like "I woke up like this – All awesome and UNIQUE'corny" or something else declaring your UNIQUE'ness. Alternatively, if you're on the go, you can screw on a lid, and sip it MINDFULLY on your way to wherever you're going that you'll enjoy the mental jolt and metabolic boost it yields!
ENJOY and Elevate!
Share it with other Woman who need to hear this!
Have them join our Free Women ONLY Facebook group where we talk about all things Awesome – Cleanse your Body, Heal your Hormones, Ignite your Life by clearing the 2 most destructive root causes for our health – Toxins and Trauma!
Post in the Group and Let us know how you did with the Recipe!  Even better, post a pic of you with your Bad ass self and Mug drinking the Mocha and #thewarriorcleanse to spread the word!
MOST IMPORTANT:  When you up-level your energy, vitality and beauty with this recipe, ask yourself 'What will I do with this extra Energy'?  Rather than cram your schedule with more, consider asking WDWFY 'What do you want for YOURSELF'?  Where have you been neglecting yourself and your health…and rather than GIVE your energy away, give it to yourself so you can be an even better stand for others. That's how it works!  Put your own mask first right?  😉
I wrote an article on this which you can read HERE, which is great Mind and Heart food while you're drinking this powerful BODY and hormone food treat.
CHEERS to being UNIQUEly YOU.  Unique-CORN you!
ARTICLES referenced in Video Above