Watch my Q&A Replay above… See details about The Warrior Cleanse below.
With all the contradictory info today, a crazy busy schedule and tired adrenals, it leaves us feeling overwhelmed, confused and frustrated we're not able to keep up and IN-joy our lives.  I was there once, which is exactly how TWC was born. After going from doctor to doctor, spending thousands of dollars on labs, multiple prescriptions, battling depression and not getting anywhere, I took health in my own hands. What I learned wasn't pretty, but what came out of it was. I created this system so you could learn everything you need to cleanse & learn about toxins, while maintaining your bad ass warrior woman life, saving time and money not having to make the same mistakes I did to solve the puzzle that true detox and self healing is best done in order:
Sheesh.  So you might be thinking…well, that can't be me, because my doctor would have been able to see that on my blood tests.  In a perfect world, yes. But, today's conventional doctor is not trained in toxicity, in fact, most prescription medications today are full of them, yet we aren't informed of that before we take them.
Which is why this cleanse is SO important and can truly change the course of everything in your life.  The reality is this:
YOU ARE YOUR OWN BEST HEALER, DOCTOR & LOVER.
And we teach you how to do all of those things in this Cleanse.
Welcome to the Future. The Warrior Cleanse IS the future of health-care.  Only you don't have to wait that long.
I trust that I was led  here for a BIG reason!
Why Should you Do This Cleanse?
This master course has transformed the lives of 1000s of women with simple beauty swaps, cleansing herbs, belly-taming remedies and hormone-healing tonics, over 100 recipes (and weekly meal plans), checklists and journals to crack and track your personal code, and routine-changing, non-toxic treatments!
In this master course, you'll learn to:
Designed to quickly deliver results, this master course will help you organize and remodel your lifestyle, routines and individual choices by empowering you to make more conscious choices about your skin, body, heart and mind.
This is the total brain, body, beauty warrior package that every woman needs to thrive in everything she does and deserves!
Food Cravings and Exhaustion no MORE! This 4 week Hormonal and Digestive Detox walks you through cleansing of your organs of elimination, then nourishing your body with nutrient dense foods proven to balance your hormones, designed week by week in the perfect order to bring your body back to life. Diane used these foods to reverse symptoms and struggles of her auto-immune thyroid disease, digestive troubles, sad skin, depression and adrenal exhaustion (to name a few).
The Warrior Cleanse is not about complication or deprivation; we simplify the process, so you can succeed while maintaining your busy warrior woman life. True health begins with one step, so I'm stoked to present to you the MAGICAL order, in which to heal your body, fueled by amazing, award winning recipes created by Maya and me, created over decades and passed down through many generations.  Here they are, by week:
Step 1, Week 1: REDUCE STRESS & BUILD YOUR ADRENAL RESERVES (energy)
Step 2, Week 2: IMPROVE ABILITY TO FILTER TOXINS, FUEL YOUR LIVER (fat burn)
Step 3, Week 3: RESTORE HEALTHY GUT FUNCTION (sexy belly & beauty)
Step 4, Week 4: Collaborate, Customize, Continue, COMMIT! Then Celebrate!
This process is the ONLY one of it's kind to take your body on a journey of healing through your ENTIRE body and provide you with recipes, rich in specific nutrients to address the root cause deficiencies implied in every organ, which lead to disease.  But no more.  It's time to transform DIS-EASE to EASE.  You ready to make it simple again and do it inside of a community that's cheering for you?  Included is an invitation to join our online Warrior Community, so you have constant support and motivation whenever needed. This is an empowering network of like-minded warriors who has your back every step of the way along your wellness journey.
What Makes this Cleanse Different?
That's what this guide is for. Let's not just cleanse, let's alter the terrain that brought on the REASON we needed to cleanse in the first place (ie habits, environment, lifestyle, and sometimes let's admit it, laziness – which together spells HELL). Isn't it cool we could turn our HELL into WELL? You may have heard it said, in reference to cancer, symptoms and disease: The cure is in the cause! So what IS the cause/causes?
Let's go over the Top 5, that most contribute to becoming toxic and warrant needing a Cleanse.
Really powerful reasons to Cleanse yes?  NO shame either, sister we ALL do this, so you're not alone.  It's not about living in a bubble, it's about dancing in your own and owning what makes you different…which is…this Cleanse will teach you how to seriously LOVE on your body, and protect it, unapologetically.
But I've Cleansed before, do I need another?  YES. In fact, we live in such a toxic world today, I recommend doing a thorough cleanse like The Warrior Cleanse every quarter, as the seasons change, to help your body adjust to changing external plants, pollen, weather and planetary rhythms.
How is The Warrior Cleanse different?  Consider the cleanses you've done in the past. Did they teach you HOW to abstain from toxins from the outside? In all areas – Personal care products, environmental, cleaning products, make up, drinks, supplements, food? If the answer is NO or 'sort of', you've not done a PROPER detox.
HINT: If you've done boxed cleanses or have never worked in a program or with a coach to guide you, the answer is NO. 
Optional Add-On for Maximum Benefits
Act fast! The first 22 participants to order The Warrior Cleanse kit will get a HUGE discount of $97.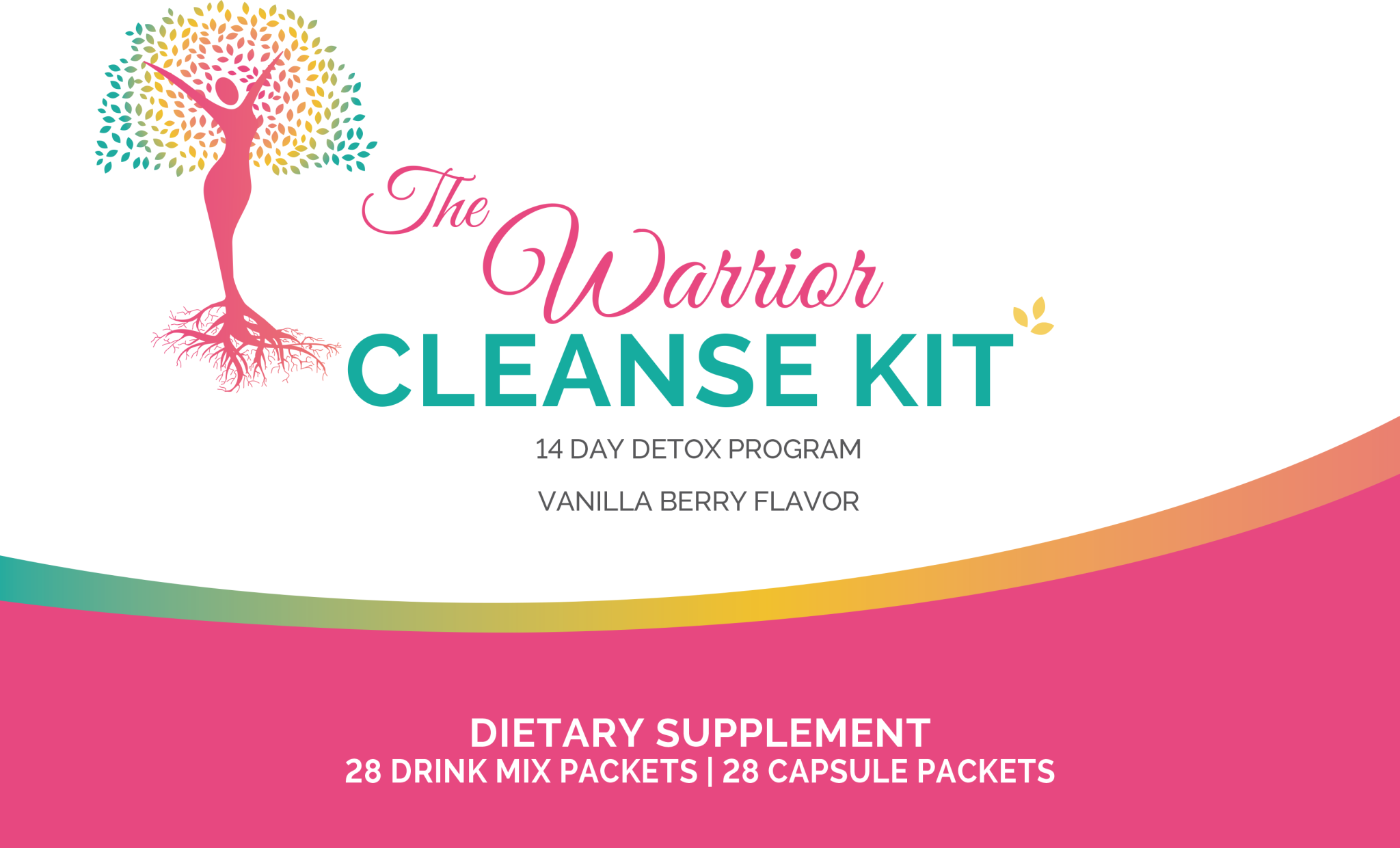 New warrior cleanse kit available!
Diane designed this Total Body System, to Ignite your Core Beauty, Energy and Immunity foundations. 
The bad news, maybe you 'wasted' some money (although I believe nothing really ever goes to waste, it's more of a life 'experience' and lesson learned, right?)
The good news, you're in the right place!
My Mission is to empower you to identify what constitutes a SOLID and effective cleanse, for now and forever, where attaining AND maintaining your dream body, energy and life is easier than it's ever been!
If you want to dive deeper into it, download this guide to learn the Top FIVE biggest mistakes people make when detox'ing and how to avoid them.
I will touch on the misinformation that is so prevalent in the nutrition, cleansing and self hormone healing space, and give you the right information so you can make more informed decisions and be more aware of some of the most common pitfalls to detoxifying your life.
Behold, the TOP 5 CLEANSE Fails I have seen many do in the past that are what, thankfully, you'll avoid in The Warrior Cleanse, including:
When I have my health, I  have everything!
Top 7 Foods We will Phase out 
This Is Designed To Help you:
These Resources Await You:
Plus the BEST part…learn the FASTEST WAY to support your hormones, immune system, and digestion with Diane's MYTHbusting videos.  These alone are worth over $1,000!
Step 1 – Buy TWC. Don't wait for the PERFECT time. Traveling or not, just START.  Once you add to cart, and check out, you will be emailed next steps and login access to TWC Program.
Step 2 – After you purchase, BUY YOUR WARRIOR CLEANSE KIT.  Optional, yet HIGHLY recommended, we even have options for pregnant and breastfeeding moms. 
If you struggle with self sabotage and feel like you've tried EVERYTHING, yet still aren't where you want to be, this is a great start for you to explore what you have not yet…and beyond.
Welcome to your new home Warrior, we are ecstatic to guide you toward the magic that you already know exists inside of you!
YES! I'm ready for more energy, confidence and PURPOSE!
This cleanse allowed us to take baby steps. I never felt like a failure. I feel amazing and have a ton of energy. I love that the focus was not on weight loss and that there wasn't stringent calorie counting and food weighing. I never felt hungry and I never felt deprived. The grocery store is a rather painless trip, nothing but the essentials I love that my son is experiencing this journey as well. I love that I can go to my fridge and combine the most random food to build a plate and it somehow tastes awesome. This has forever altered my approach to health and wellness!
Natasha Wall
I'm a bikini competitor, and for years have eaten the 6 meals a day, bodybuilding diet. I still suffered belly bloat. The Warrior Cleanse cut back 7 pounds from my mid section and for the first time, I have a flat belly! I lost 7 pounds! And I have so much energy I don't know what to do with it.
Taryn Luquin
I am down 10 lbs and feel incredible. I NEVER imagined how much this would change me inside and out when we started. I thought I new a lot about health and fitness... But nothing made me feel whole. Until now!
Carissa McClary
I lost 23lbs and fit into a dress I haven't slipped on for over 6 years. It put me in tears! To think, a year ago I was a raging alcoholic, on antidepressants, taking large doses of pain meds, which landed me in the hospital near dead. WAKE UP CALL. I got sober, kicked the meds and started the Warrior Cleanse. Not only was this program easy to follow, it's real education, I had fun and never felt deprived. I am getting compliments every day! I lost my migraines, nerve pain and 23 pounds; so grateful I didn't lose my life!
Deanna Fenner
I've had amazing results - clearer skin and thinking, smooth digestion and consistent energy through-out the day. I even sleep better! So happy! I highly recommend her program.
Karen Hultgren
If you're someone who struggles with infertility, acne, PCOS, hormonal imbalance, this is for YOU. After a short but traumatic one year struggle with infertility at the age of 28, within 4 weeks of doing TWC I was pregnant.
Janna deGouveia, PhD
I've lost 9 pounds and my clothes fit much better! I stopped drinking diet coke and wine every night, and incorporated the Warrior alternative versions Diane provided us with. The kiddos LOVE the 'healthier alternative' meals and snacks we ate on the Warrior Cleanse. Also, my skin hasn't looked better since I was 8 months old.
Sarah Kastner-Rief
Hello Warriors,
First of all, I want to say thank you. Thank you for loving yourself enough to be here today. It has truly been an honor to have guided thousands around the world in the quest to unleash their inner warrior and discover a body they never dreamed possible. I believe that cleansing is fundamental to our health. We all need to flush out the toxins, heal the body and nourish the soul. I spent decades of my life going from cleanse to cleanse, learning and experimenting with what works and what doesn't (and unfortunately there's a lot out there that doesn't). Without releasing toxins and supporting our organs, we are not addressing the underlying problems and consequently end up engaging in a vicious cycle of reabsorption and pollution. No more. The cycle ends here! I cannot wait to be a part of your journey. The Warrior Cleanse has allowed me to reverse my auto immune diseases, skin issues, and hormone imbalance. We all come here for different reasons, but the results are the same: you will not believe how amazing hormonal freedom can feel. Let's do this, Warriors!
Don't Miss Out! It's only $97 for a
limited time & will increase to $297!
Find all of your Burning Questions not answered on this page