What can I say about Megan Rapinoe?
She was a driving force for our team, the FC Sacramento (formerly known as the Elk Grove Pride) for the 5 years I played with her.  I was a veteran in my early 20's when I joined the team, traded from US renowned California Storm, where I was recruited to play pro with the Bundespinoe?liga in 2001.  Upon returning from Germany, I re-joined the Elk Grove Pride to be under the leadership of my mid teens coaches, Danny Cruz and Seth Boyle, who were responsible for helping me earn a scholarship to University of Pacific, as well as many others on my team, and an endless list of other women who climbed the rankings in women soccer around the world, for our country and in big league schools.  I cannot say enough about these guys, mainly Danny Cruz who implanted this will to succeed, and passion for competing that played a major part in the character I am today! Back to Megan…she and her twin sister, Rachel were the hearts to our offense, while Stephanie Cox (also on the Olympic team, this year as a reserve, last year she rocked it), myself and a few floaters made up the strength of our defense.  Those girls were only 17-18 when I joined the team, and it's been an honor to watch both of them grow.  Hearing Megan's contributions of success for the US, not only in the back of the net, scoring yet again, the majority of our countries goals, but also by announcing her sexuality, is humbling to see.  
CLICK HERE FOR THE FULL ARTICLE
– While I don't impose my beliefs on this topic onto others, I think it encourages others to live their truth, be honest with themselves and to everyone around them, resisting the temptation to give in to what society expects of them, and deems as 'normal'.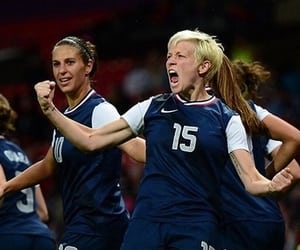 Normal is boring, in my opinion!  🙂  I have many gay friends, who I adore and by no means do I think they should be segregated from society.  I am more of an agapic individual, believing in the good of all, so I apologize if I this offends some, however, I am sickened by the 'hate' comments that are being made toward Megan, praying that she find a good man to marry and procreate with.  Give her a break! The girl is happy, living her dream for herself and our country, and under God, those who judge as such, carry hate in their hearts and hence is not God like.  What's also really cool to reflect back on is the days when Megan and I played together, we both made the ballot for US All Stars in what was the highest level of women's soccer in the US at that time.  
CLICK HERE
 TO SEE WPSL USA ALL STAR RANKINGS FROM 2004 featuring MEGAN, STEPHANIE COX, MYSELF, LISA WRIGHTSMAN & a few others on our team worth noting.Lisa's story is a miracle, as I remember the months just before she hit rock bottom…games we played in Vegas, and how worried I was when we couldn't find her.  Now, I'm happy to see that she's found herself!  🙂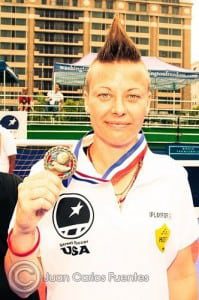 Lisa Wrightsman is another amazing success story that sprouted from the FC Sacramento Pride.  She survived cancer as a child. She played college and semi-professional soccer until drug and alcohol addiction overtook her life. She is now over 2 years sober and was the National Women's Player Of the Tournament at the SSUSA Cup in Washington, DC. She has been featured in the local media and in the New York Times (
CLICK HERE
for article). Lisa is now the  coach of the Sacramento Women's team.  She has personality and presence that would win over anyone in a heartbeat. She even shaved her head in a Mohawk just to bond with her male teammates from Sacramento.  :)…Now she's the captain of the USA Mohawks, a women's homeless organization, which gives home and instills confidence into those on the street who aspire to greater heights for their lives.In fact, my boyfriend, Evan Hesse, with Central Avenue Pictures, will be filming this year, 'A Love for the Game', an inspirational film based on the true story of this very topic…homeless communities and individuals being 'revived' into worklife and social skills through Street Soccer USA organizations. 
CLICK HERE for A LOVE FOR THE GAME
press release.  We met with Lisa on a trip to Sacramento to gain some insight as to the inner workings of Street Soccer and to give my friend a big hug to congratulate her on her revival. I played a few games with her and the team and it was fun to be alongside my buddy again, after all these years.  :)So, here's to you Danny Cruz AND Seth Boyle.  The 2 of you shared so much heart with us, with your teams, with me, that provided memories and skills within ourselves to last a lifetime with infinite arms of impact for those we touch and inspire. It's really neat to observe the growth of the sport since the highlight of my career 12 years ago, and to be able to look at the tube, with a big grin on my face, supporting my friend and former team mate, who's going for the gold along with the rest of the Women's Olympic team, who deserve equal recognition.
GO MEGAN AND GO USA!!!