More than 75% of parents are concerned about the side effects of vaccinations, according to a survey released by the Center for Disease Control in 2011.
The choice of how and whether to vaccinate is a very personal one.  And now, it's turning into a mandatory one.  Many of my clients are nurses, and hospitals are threatening their jobs without flu shots.  Also, I know many moms and women who work in close proximity with children, which today it is also mandatory to be up to date with the vaccination schedule.
It can be a daunting experience wading through the difficult options. If you do decide to vaccinate, you want the vaccine to be as effective as possible with the least amount of side effects, which are a mixed bag depending on the persons immune system and a variety of other factors such as their ability to detox properly, effectively and rapidly.  The list of toxic ingredients in vaccines are lengthy and frightening, which includes heavy metals, active strains of the disease, preservatives, animal parts, aborted tissues and glyphosate (round up) to name a few.
As such, if you are in a bind, your options are to either:
a)  leave your job
b)  leave your state or country
c)  get vaccinated and strengthen your detox pathways and immune system before and after in this way.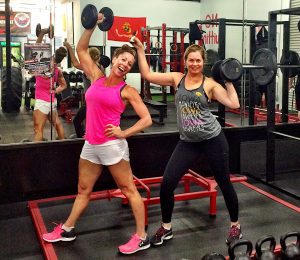 Our goal with these herbs is to 'take your internal organs' to the gym, which looks like this.  PICTURED: Warrior Stephanie Ray (founder of BioRay, and I lifting weights, getting strong)
Organs to Support When Getting Immunizations
Support the adrenal system to keep the body's natural stress responder strong. Getting shots is emotional and physically stressful.

It's important for our biggest filtration system, the liver, to be working well. The liver is responsible for cleaning the blood and has pathways for removing toxins. This allows vaccines and their byproducts to have the least negative impact.

The gastrointestinal system goes into overdrive, fighting invaders that have entered the body. Supporting the microbiome in the gastrointestinal tract keeps immunity strong.

Vaccines contain toxins which pollute the body and interfere with cellular and mitochondrial function. Removing toxins is a crucial component for the body's ability to repair and regenerate.
Here are protocol and dosage RECOMMENDATIONS on how to use BIORAY Therapeutics™, BIORAY® Adults or BIORAY Kids® lines when getting immunized
Working with a caring and thoughtful health practitioner is recommended. Supporting you and your family's health goals is our highest priority.
If you'd like to see the FULL VIDEO on how important it is to support these systems not just around the time of vaccine administration but for the REST of your life, to prevent common unwanted symptoms and disease:
CLICK HERE TO WATCH MY INTERVIEW WITH STEPHANIE RAY
How to Get BioRay Herbs
Bio Ray loves us and our mission.
If you did The Warrior Cleanse, worked with me as a client or have followed me for some time, you probably know how big of a fan I am of, and how successful we've been seeing miraculous testimonials on the other side of our warriors using the herbs.
To get these herbs, you can click HERE for directions and how to get them at our Warrior Discount.